Physical access at PSU is in a very restricted-access state due to the continuing effects of the pandemic. We are holding off on Fall barcamp activities as we work on attend anywhere operations for the students in the College in addition to a new year of the CAT Braindump.
Once we have things figured out, and PSU moves to a more-open mode, we may have some time to plan a hybrid Barcamp. Stay tuned!
---
Portland State University
Engineering Building

1930 SW 4th Ave
Portland, Oregon 97201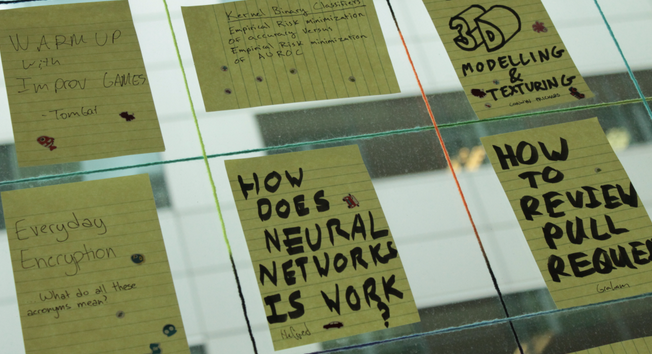 ---
The CAT Barcamp……
Is an Unconference
An informal conference whose agenda is directed by its attendees. Everyone who comes is a potential speaker and decides what to speak on the day of!
Is Open to Everyone
CAT Barcamp is not only for PSU students! Anyone who has an interest in being involved may attend.
Has no Charge to Attend
In the spirit of the Open Source Community Barcamps are free of charge. All we ask is that you register so that our planners have an idea of how many attendees to expect.
Has Sessions
The sessions at a Barcamp are as unpredictable as the Oregon weather. They can be on various topics, from technology-oriented dev ops to non technology oriented 'How to make the BEST grilled cheese EVER!'.
Is Unscheduled
Barcamps are unscheduled which means that the topics for sessions are not pre-determined. The timeslots for the sessions however are. Everyone gets a chance to pick a timeslot in which to speak in throughout the unconference.